Treat your taste buds to an exquisite culinary journey, wandering through the 2 restaurants and bar at PALM Hotel & Spa.  Whether you wish to enjoy a casual lunch feet in the sand or indulge in tasty regional cuisine, executive Chef Claude Pothin orchestrates a tantalizing culinary experience showcasing fresh seasonal products.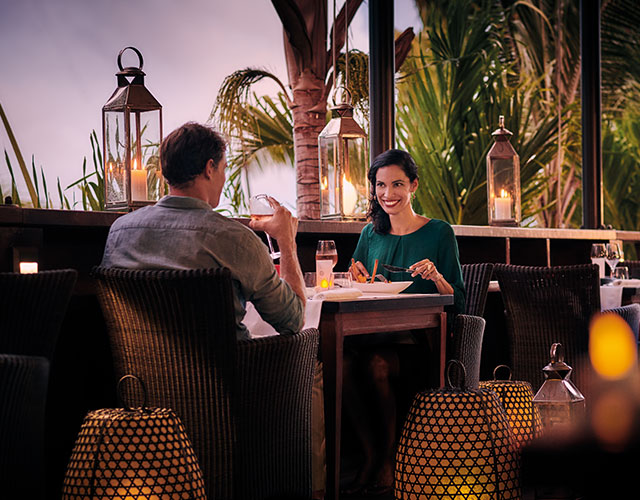 Combining local produce and elegance, le MAKASSAR offers a tailor-made cuisine. Authenticity and freshness define this exceptional restaurant. A la carte, an alliance of products sourced from the lands and coasts of Reunion Island, enhanced by sophisticated culinary techniques. At the "custom-made" station, a selection of fresh meat and fish, cooked and seasoned according to your liking and daily suggestions of the Chef. To accompany your meal, you may count on the expertise of our sommelier to choose the best wine pairing, among more than 350 references.
The Lounge of the Makassar
To further extend your experience at Palm Hotel & Spa, we invite you to discover the Lounge of the Makassar. 
A reading lounge that regularly offers wine tastings and wine-pairing dinners. In a cosy atmosphere where leather armchairs are nestled beside a wooden bar and the Wine cellar of the Makassar, you are invited to take a time off from the worries of the world or gather with your friends around a great vintage.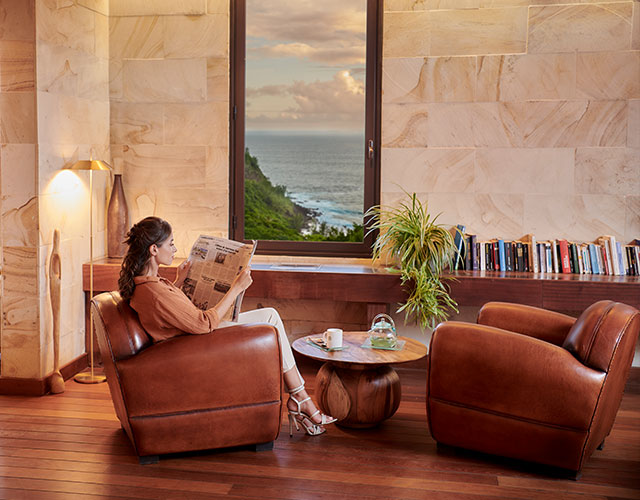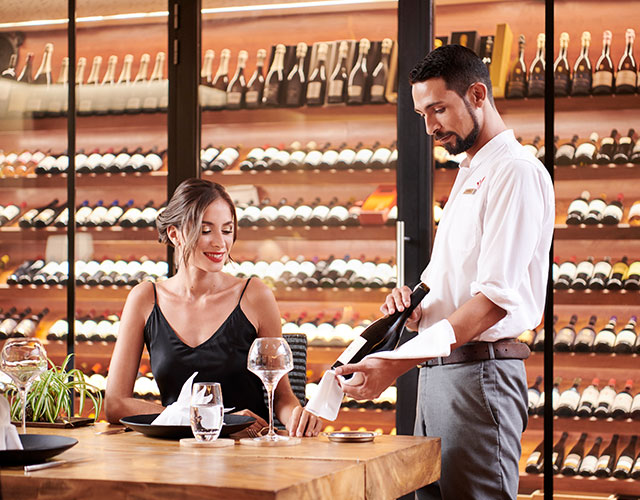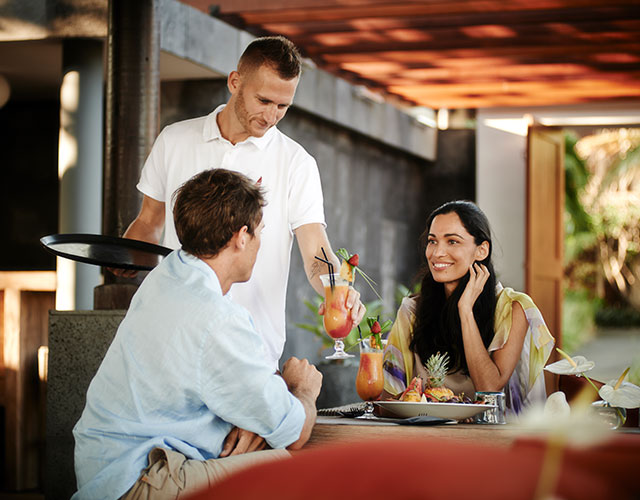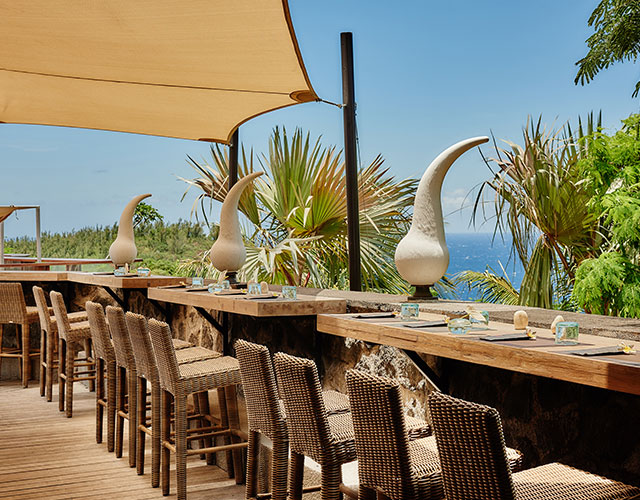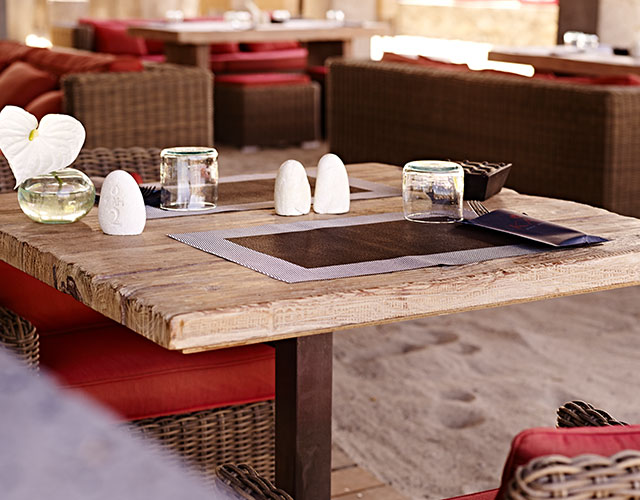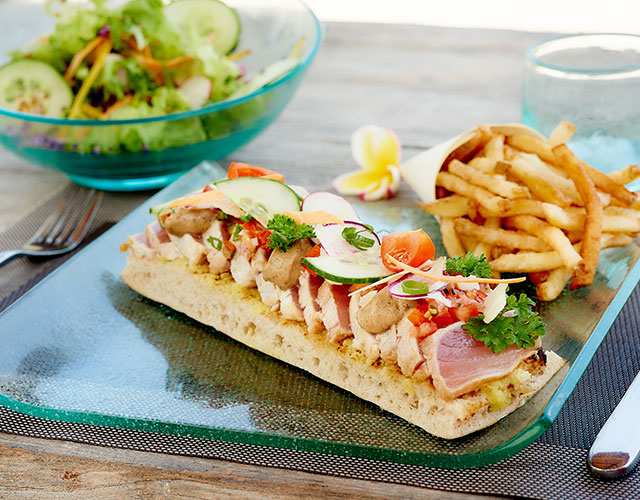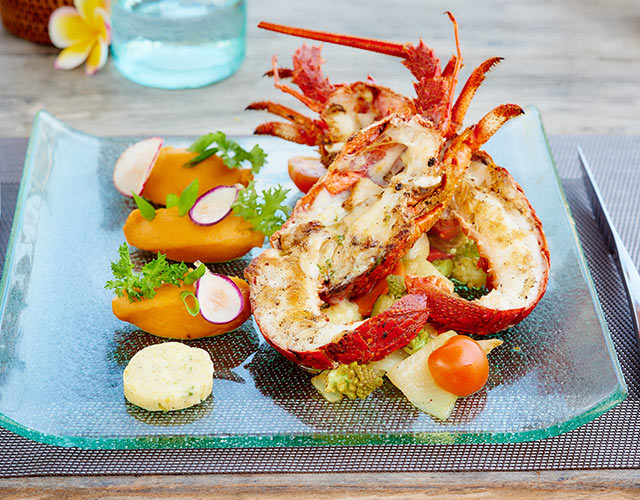 Flirting with the ocean, the KAH Beach & Restaurant is the ideal venue for a lunch feet in the sand. In a  relaxed atmosphere, this beach restaurant combines mouthwatering delights and farniente. On the menu, heart of palm salad, fish and chips, or Black Angus rib steak for gourmet pleasures all day long !
The KOKOA BAR is the ideal spot for an al fresco cocktail or mouthwatering tapas overlooking the Indian ocean. From 3.30 pm to 5pm, tantalize your taste buds with crepes at the gourmet cart. And who knows? During the austral winter, from June to October, you may get a chance to admire the whales migrating along the coasts…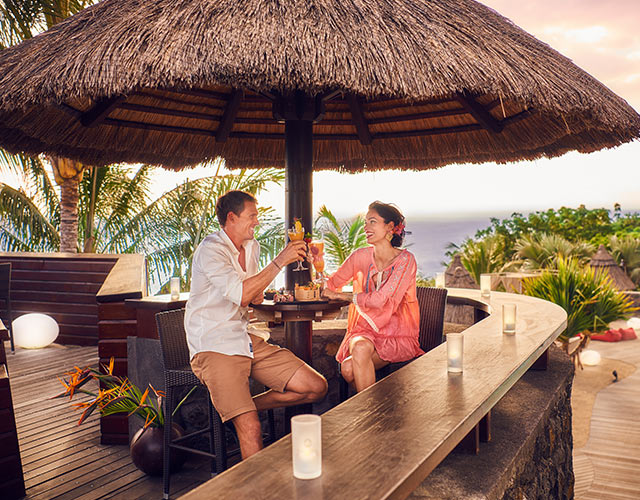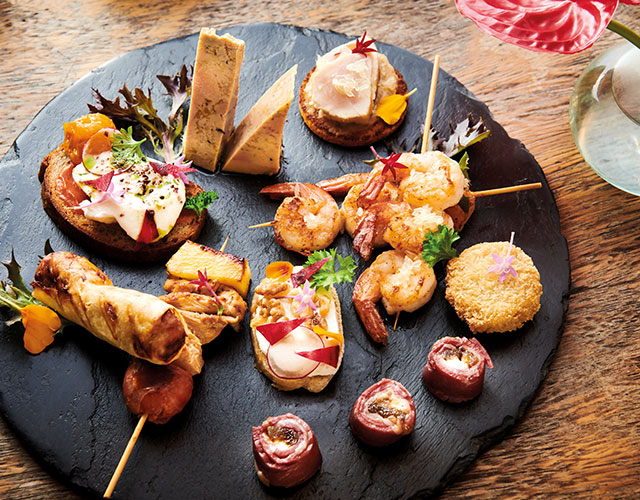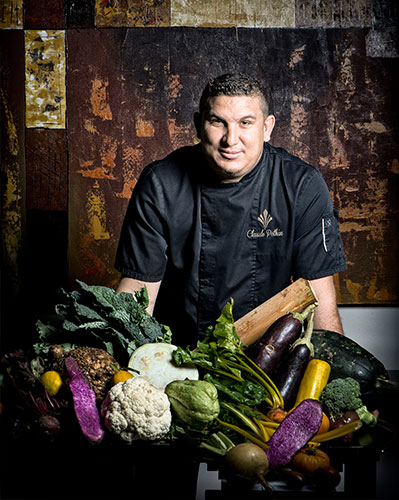 At the head of the cuisines at PALM Hotel & Spa, the chef Claude POTHIN is a local products lover. Each day, he's taking great pleasure bringing up to date "forgotten" fruits and vegetables. Some tasty products with unique flavours and surprising benefits.
Aglance lasting on some details, a precise work plating each dish, a constant research for the balance of flavours; each of his creation is an ode to regional products. The spirit full of ideas, playing with sweet-salty mixtures, Claude POTHIN is on the lookout for emotions.
Frequently asked questions